Weather, wind and pollution – day in, day out, they take their toll on your skin. Now you can fight back with our exquisite Aloe Moisturizing Lotion.

This unique lotion has outstanding humectant and moisturizing properties. It contains Collagen and Elastin to keep the skin smooth, soft and elastic while maintaining the skin's natural pH balance. Thicker than our Aloe Lotion, it is ideal for replenishing lost moisture and restoring skin's soft, silky feel. Aloe Moisturizing Lotion is excellent for face, hands and body, helping to counteract the effects of pollution and the environment. Once the lotion has been smoothed on and absorbed into the skin, makeup can be applied as usual.

Moisturizer for face and body

Excellent for hands

Does not contain Lanolin

Rich in texture
Recovering Night Creme is a primary component of the Aloe Fleur de Jouvence® collection. It contains polysaccharides and other skin humectants which form a protective film against moisture loss. Natural lipids for the important oil/water balance are provided by wheat germ glycerides and apricot kernel oil. Soluble collagen is needed for maintaining good skin structure and reducing line and wrinkle appearance to help combat signs of aging. Special skin enhancers, derived from natural plant and bee product extracts, are also included. The moisturizers in Recovering Night Creme give life to the look and feel of your skin. It is designed for night use to condition the skin while the body rests, helping to restore the 'Flower of Youth' – skin that is youthful in its appearance, pliable, smooth and taut. It is a superior, velvety cream that restores fullness to even the finest wrinkle lines, keeping the skin supple, while helping maintain elasticity and moisture.
Velvety, rich night cream

Contains vitamins C & E, plus Provitamin B5

Added lipids protect and aid in replenishing skin while we sleep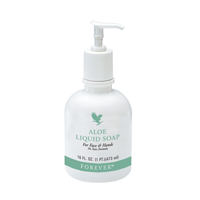 Aloe Liquid Soap is a rich, pearlescent, moisturizing hand and face cleanser with a generous amount of aloe. It creates a luxurious lather, leaving the skin feeling clean, smooth and silky, while minimizing the irritations experienced with some bar soaps. Its "no tears" formula also makes Aloe Liquid Soap an ideal shampoo for children and adults alike.

Biodegradable, pH-balanced and non-irritating, it is mild enough for daily facial, hand, hair or body cleansing, and is suitable for those with sensitive skin.
No-tears formulaMoisturizing cleanser

Mild and non-irritating

Pump-action dispenser
Product review
I use these products every day, cause I get acne. This product works very good on my skin, it reduces my skin and freshen it, i always say how the products I use smells, cause if it smells good you will be more eager to use it. And yes these products smell good. you can go to their site www.foreverliving.com to view their products they got a lot to offer
Clearskin® Blemish Clearing Spot Treatment
Clears up acne pimples & helps prevent new blemishes. Attacks acne on the spot. See results in 24 hours! .5 fl. oz.
SALICYLIC ACID 2.0%
INACTIVE INGREDIENTS:
WATER/EAU
SD ALCOHOL 40-B
PROPYLENE GLYCOL
ETHOXYDIGLYCOL
TRIDECETH-9
I have to say this really works!! When I feel like a pimple is coming, I immediately use this. I put it on the spot and away with that upcoming pimple. It is an avon product, I also order this product.